Is Breast Augmentation for Me? Four Questions to Ask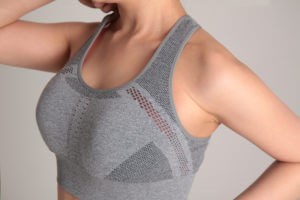 When you're considering undergoing breast augmentation, there are several factors to include in your research and decision-making process. Size, material, placement - there are so many options to choose from and so many things to think about. At the top of the list is whether or not you are a good candidate for breast augmentation surgery. At the Institute of Plastic Surgery, we want you to know that our board-certified surgeons are here to guide you through the breast enhancement process every step of the way. Below, we address some of the most commonly asked questions regarding breast augmentation to help you decide if this particular surgery is the right one for you.
Am I At My Goal Weight?
As most women know, weight loss and gain can each affect the size of your breasts. While weight gain can give you extra volume and cleavage, weight loss does the opposite. Not only that but if you are choosing breast augmentation to bring proportion and balance to your figure, losing or gaining weight can affect that symmetry as well. When you are deciding on the optimal size for your breast implants, your existing chest measurements play a role in determining the perfect size. Additionally, the balance between your hips and chest will help create the right proportion, something weight gain or loss can adversely affect. Another issue with gaining or losing weight after augmentation surgery is the effect it may have on your surgical results. As with natural breasts, gaining weight can increase the size, giving you breasts much larger than you would like. Losing weight can cause breasts to sag and look too large or disproportionate. In any case, it is always best to maintain a stable, healthy weight both prior to any cosmetic surgery and after in order to ensure beautiful, long-lasting results.
Am I Planning To Get Pregnant?
One of the questions more frequently asked by women who are considering breast augmentation is if the surgery or implants will impact their ability to breastfeed successfully in the future. The short answer is no - as long as you tell your surgeon that you are planning to breastfeed, they can ensure that they use an incision that won't sever any milk ducts or cause any issues for breastfeeding. However, as with weight loss, pregnancy and breastfeeding can cause your breast augmentation results to suffer. You will gain weight during pregnancy, and even if you choose not to breastfeed, your breasts will enlarge, preparing themselves to feed a baby. Once you have lost all of your pregnancy weight, your breasts will also lose volume, leaving you with excess skin. If you decide to wait until you're done having children to undergo surgery, the good news is that most women who choose to get breast augmentation post-pregnancy do so because of volume loss, and if there is excess skin or sagging, it can be easily fixed with a lift during your augmentation surgery. Keep in mind that if you choose to get implants before you are finished having children, there is a good chance you will need to get a "touch up" down the line to address any issues from pregnancy and breastfeeding.
Do I Have Realistic Expectations?
One of the most important factors to think about when considering breast augmentation is your reason for doing it, as well as if the results you are expecting are realistic. While breast augmentation is a fairly straightforward procedure, it is still surgery and it is a body modification. If you want to get implants to boost your confidence, to look better in your clothes or just to feel better about your body in general, these are all good reasons to consider enhancement. However, if someone else is encouraging you to change your look, or you are trying to achieve a body contour that is glorified in the media, you may want to rethink surgery. Along the same lines, it is vital that you have realistic expectations for your results. If you are a petite woman, choosing extremely large implants will not only make you look unnatural and disproportionate, but they can also cause problems down the line. Back pain, breast skin that is stretched too tightly over the implant - these are just some of the complications that can result from overlarge implants. Additionally, because every woman's body is different, it is important to be realistic about how you want to look - breast augmentation is an enhancement, designed to give you a look that is still you, only even more beautiful.
What Can I Expect From The Procedure And Recovery?
Breast augmentation surgery performed on an outpatient basis using general anesthesia. The incision that is used is based on the size and type of implants you choose, as well as the placement of the implants (under the skin or under the pectoral muscles). Incision choices include periareolar (around the areola) transaxillary (in the armpit) or inframammary (in the fold where the breast meets the chest). The breast implants are inserted into a pocket created under the skin or the pectoral muscle, and once they are situated properly, the incisions are sutured carefully and you're on your way to recovery. You will need to have someone there to drive you home and stay with you for the first 24 hours following your surgery, until the sedation wears off. After surgery, you will be required to wear a compression garment at all times for the first week or so following your surgery, as it will provide support and protection for your breasts, as well as helping to minimize swelling. You may experience pain, swelling and bruising, but these are all normal and can be managed using over-the-counter pain medication. You will receive specific post-surgical care instructions, so be sure that you follow them closely to ensure safe and proper healing. You will most likely be able to return to work and other daily activities about a week or two after your surgery, however, you will want to limit raising your arms above your head as well as lifting more than five to ten pounds. If your job is more active or strenuous, you may need to wait longer before returning. Most patients can get back to exercise and higher intensity activities within about six to eight weeks after surgery, but as recovery time is different for everyone, you should always talk to your surgeon first. If you are thinking about enhancing your body contour through breast augmentation, contact us today!