Which Laser Treatment is Right for You?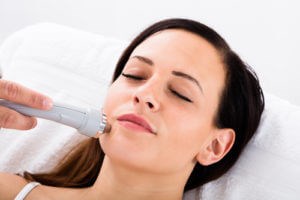 Laser treatments are an excellent way to rejuvenate your skin and enhance your appearance with much less discomfort and downtime than surgical procedures. For the right patient, these procedures offer excellent results that refresh your look and even turn back the clock. The surgeons at Institute of Plastic Surgery offer two different types of laser treatments, allowing you to choose the right procedure for your specific skin type and concerns.
Ablative Treatments
Ablative laser treatments provide exfoliation benefits similar to procedures like chemical peels or microdermabrasion. All of these treatments work by removing outer layers of skin cells that are contributing to a dull skin tone and other minor imperfections. However, the laser device can perform with greater precision than these other techniques, removing just enough skin layers to produce the results you are looking for. The Institute of Plastic Surgery offers the MicroLaser Peel, using the state-of-the-art Sciton laser. This device removes outer layers of dermis, along with the superficial blemishes that remain on the skin's surface. The depth of the procedure can be tailored to your specific needs and desired results. A moderate peel using this device is the approximate equivalent of about five microdermabrasion treatments.
Fractional Treatments
While ablative treatments offer excellent exfoliations results, they can also involve a longer recovery time afterward. Fractional laser treatments addressed that drawback by introducing a new way to rejuvenate the skin without the complete resurfacing provided by ablative laser. Instead, a fractional laser creates micro-injuries in the skin in a grid pattern. The injuries stimulate the body's own healing process, increasing collagen production and cell renewal for a refreshed appearance. Healthy skin surrounding the treated area helps to heal the skin faster, resulting in less discomfort and downtime than ablative treatments. We use the ProFractional Laser, also by Sciton, to perform our fractional laser rejuvenation at Institute of Plastic Surgery. The depth of these treatments can also vary to accommodate the specific needs of each patient. The deeper the treatment, the longer the downtime afterward. However, you will also enjoy more dramatic, longer-lasting results from a deeper penetration of the laser energy.
Making the Right Choice for You
When it comes to choosing the best treatment for you, there are a number of factors to consider. Your skin tone will be a major factor in your decision, since ablative laser treatments do not tend to work as effectively on darker skin tones. If your skin tone ranges on the higher end of the Fitzpatrick skin types, such as IV, V or VI, you may see unwanted side effects from the ablative procedures like skin bleaching. The good news is fractional treatments can be safely and effectively used on all of these skin tones with much lower risk of these side effects. The problems you wish to address should also be a consideration as you select your treatment. Ablative treatments like the MicroLaser Peel are able to eliminate surface imperfections like pigmentation irregularities and fine lines. Fractional laser procedures tend to be more effective in minimizing the appearance of deeper wrinkles and restoring firmness to the skin that is typically lost over time. Our surgeons at the Institute of Plastic Surgery have experience with both types of laser treatments and can help you choose the best procedure for your specific concerns and desired outcome. To learn more about these treatments, contact us today!